I paint custom paintings for your life, your space, and your memories
You deserve a unique painting that reflects YOUR LIFE that tells YOUR STORY painted with love and experience by me. It is wonderful to own a painting that means a lot to YOU. Sometimes you like some aspects of one painting and some of another, or it isn't the right color or size. That is when you should consider commissioning a custom original painting.
I will be happy to paint an elegant painting a favorite trip photo. Or capture those memories of beautiful sunsets, ski trips, forests, hikes, and gardens. Of course, having a painting of your lovable pet preserves all those fun years spent together.
The Process
First, contact me via the contact page.
I will respond as soon as possible. I will personally talk with you by phone and e-mail. We will create a plan for a beautiful painting and answer any questions.
With pet portraits, I work from higher resolution images. The more detailed the better the painting. The better the photo(s) the better the detail is in the painting.
After discussing the painting, and when there is a clear understanding of what to paint, for example, color, size, image, etc.. I will write up a quote with the details of what we talked about, along with an invoice with the price and the cost of a 50% deposit (non-refundable), and send it out to you.
When I receive the 30% deposit along with the signed quote, I will start the painting.
The painting process can take up to 8 weeks depending on the subject and size. I will keep you updated throughout with pictures and e-mail.
When I have completed the painting, you can review it and I will be glad to make any changes. Note: there may be an extra charge for numerous changes but it rarely happens.
When the review is complete and I receive the remaining balance, I will ship it for free (in the continental United States) or deliver it if your local in the Minneapolis Saint Paul Area.
Average Pricing for Commisions:
Small (4"x4") - (8"x10") $150.00 to $700.00
Medium (9"x12") - (16"x16") $800.00 to$1000.00
Large (16"x20") - (24"x30") $1000.00 to $2000.00
Extra Large $2000+
If you don't see a size here just ask for a quote. I will paint almost any size!
Simple Pet Photography Tips
*Get closer if you can. Not 20 feet away! Also, the higher resolution of the camera the better!
*The best angle to take a picture of your pet is at the same level they are. You might need to kneel, squat, or even lie down!
*Focus on the eyes! Even if the nose is a bit blurry the eyes are the personality.
*Natural lighting is the best. Photos taken in front of a window or outdoors in reflective shade make the best lighting. No Flash! No Direct midday sun! That kind of lighting creates a flat image. The high contrast between lights and darks doesn't revile the subtle details. The best Sun shots are in the evening or early morning when the sun is at a lower angle.
*These are generally good tips for taking better photos of your pet or anyone!
*So if you are taking photos for me or any artist to paint a portrait here are a few more thoughts:
Your photos are important to the quality of the painting. The more detail in the photo the more detail in the painting! I magnify and zoom into the image on my laptop to see important detail.
Providing different images of your pet is always a good idea. That way the artist gets a better feeling of the pet's personality.
Sometimes, unfortunately, there is only one old photo and we can't take a new one because they are no longer with us. That is where creativeness and experience come into play ...I'll do my best.
Childhood Memories!
Kids grow up so fast! It is nice to have a custom painting of special moments in their life.

CUSTOMER TESTIMONIALS
Hear interesting stories from our lovely customers.
"My boxer, Daisy, brings me absolute joy! Just looking at the painting of Daisy always brings the same warm fuzzy feelings as if I'm with her and gives me a chance to brag about how awesome Daisy is"
Pets are an important part of our family and for some, our only family. They help us in so many ways with unconditional love. Pets make us happy, calm us down and provide companionship. Capturing your pet's personality in a custom painting can be cherished for a long time.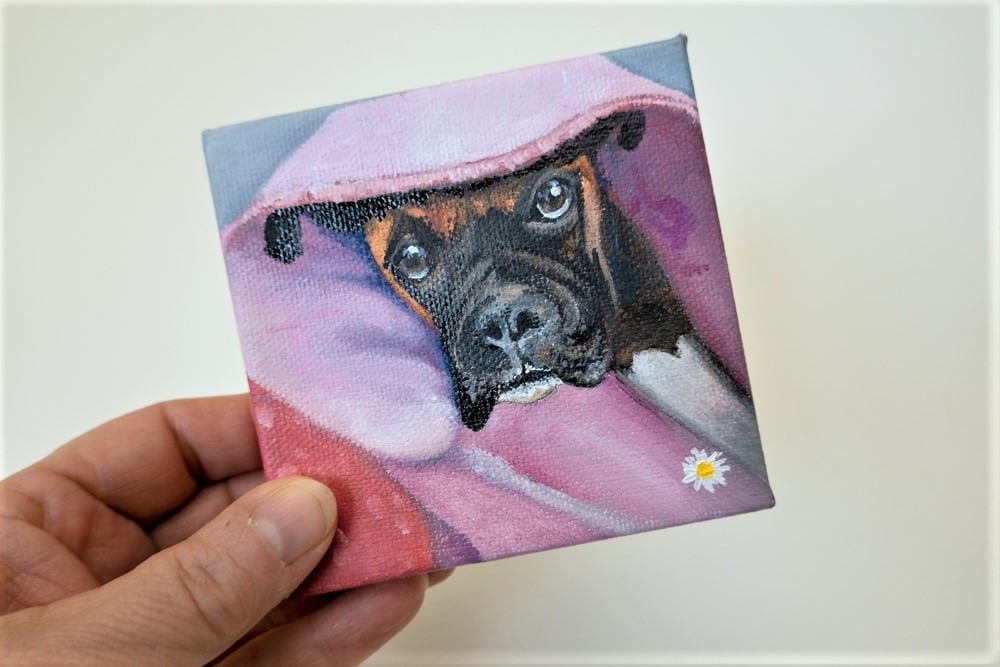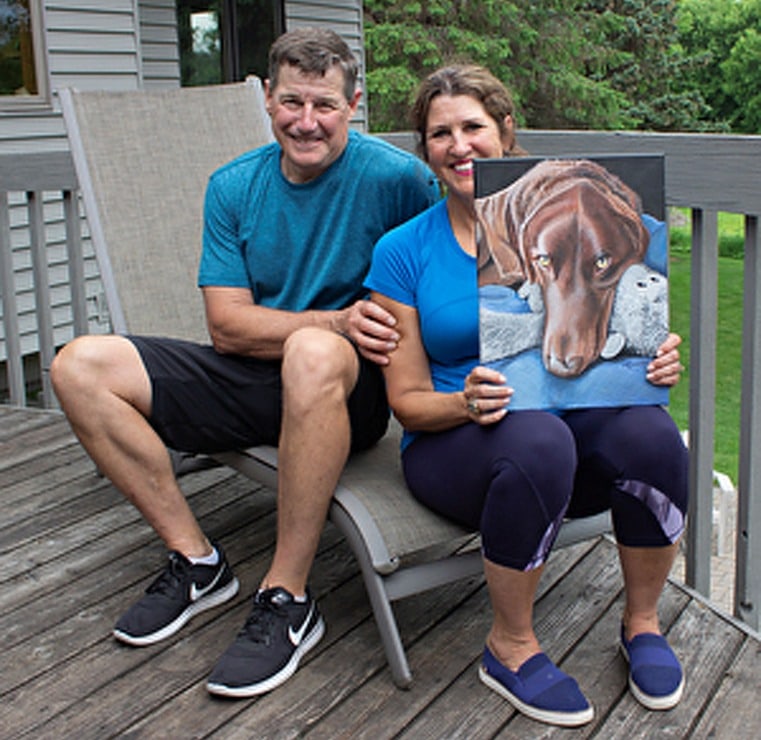 "LOVE,LOVE,LOVE the oil painting of our family dog (Cooper) Leanne Hanson made for our family! The intricate detail to the eyes, the coloring, and the way she catches Coop on a natural state of comfort!!! Unbelievably talented...Thank You!"
customer: Kelly Meyer